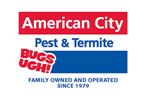 American City Pest & Termite, Inc.
American City Pest & Termite, Inc. has been QualityPro Accredited since 2015.
How did you get started in the pest management industry?
My parents founded the company in 1979. Pest control and customer service is all I have ever known. In 2005 I was promoted to President of American City Pest & Termite.
What is the guiding principle behind your success with American City Pest & Termite?
Always treating customers and employees how I would want to be treated. If there is a product, treatment or service I wouldn't want used in my home, I won't use it in customers' homes. Providing quality service to our customers is what has kept our company so successful over the years. My parents and I treat our employees with the respect they deserve, we pay competitively and provide many perks to let them know they (and their families) are important to us.
Why did your company choose to earn the QualityPro Certification?

Our company is one of the best in Southern California. We pride ourselves in our service, equipment, products and well-trained service technicians! QualityPro enhances our service and training and sets us apart from ordinary pest control companies.
Overall, what do you think the most valuable aspect of QualityPro is to your company?

It's the gold star of the industry. Many companies say they are great, but being QualityPro certified proves that we have taken additional measures and are held accountable for what we claim.
-Cindy Ziemke

President, American City Pest & Termite, Inc.