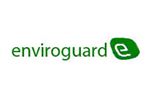 Enviroguard
Enviroguard has been QualityPro accredited since 2004.
How did you get started in the pest management industry?
I grew up in a family owned pest control company called Atomic Pest Control, started in 1958 by my uncle Les Tubbs, it was located in Memphis, TN. My dad Earl Tubbs joined the company in 1960. I would spend weekends and summers working at the company. In 1979 as a college student I started working there full time.
What is the guiding principal behind your success with your organization?

Offer quality services and retain customers.
In your opinion, what makes the pest management industry different from other industries?
The personal connection with your customers. It is harder to sell a "negative service", customers delay purchasing service until they experience a pest control "event".
Why did your company choose to earn the QualityPro certification?
Fits our niche strategy of quality and differentiation.
Overall, what do you think the most valuable aspect of QualityPro is to your company?
It is a talking point with customers and provides assurance of good business practices and documented procedures.
What's your forecast for the industry in the next 5 years?
Steady growth for our company and continued consolidation in the industry.
Tell us your most memorable moment so far in your career in the pest management industry.

Inheriting a giant 12' mouse from the family business in Memphis and bringing it to our company in Ringgold.
-Lee Tubbs
Owner, Enviroguard Pest
nobugs@egpest.com