How did you get started in the pest management industry?
After earning a business degree in  college, I started in a management program with one of the large national companies.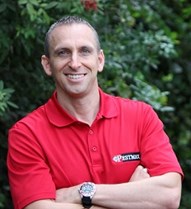 Tell us your most memorable moment so far in your career in the pest management industry.
There are too many.  One recent moment came when we were called at the last minute to do a fumigation for a landmark location that was scheduled for a year with another PCO who had to back out at the last minute because of the size of the place.  We were able to put together a crew that pulled off the feat after 7 straight days of long work days, uncooperative weather, and general difficult conditions.  So proud of the crew and the comradery they developed through this job.
What is the guiding principal behind your success with Pestmax?
Do unto others as you would have them do unto you. Whether that's with fellow staff, customers (even disgruntled ones), servers at the restaurant, or strangers in need.
Why did your company choose to earn the QualityPro accreditation?
To set us apart from others in a way that demonstrates all areas we aim to go above and beyond simple standards.
Overall, what do you think the most valuable aspect of QualityPro is to your company?
I believe our staff feels a sense of accomplishment and excellence that pushes them to live up to a greater standard each day.
-John Goll
President, Pestmax Control Solutions