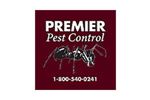 Premier Pest Control, Inc.
Premier Pest Control, Inc. has been QualityPro Certified since 2013.
How did you get started in the pest management industry?
I started in the pest management industry 35 years ago as a lawn technician. I then got a job with a national lawn/pest control company in their structural pest control division. They trained me to be a manager and I worked my way up the ladder from there.
Tell us your most memorable moment so far in your career in the pest management industry.
We went to treat for bed bugs in a unit at a high-rise apartment tower. Part of the job included inspecting the surrounding units. I will never forget what I saw at one of the neighboring units. A very elderly woman answered the door. She knew nothing about bed bugs and said she saw nothing. As we got to talking she did mention she was getting bites. Upon inspection I saw bed bugs throughout her unit (on the bedspread and climbing up the wall). It was a pretty heavily infested unit. When I explained bed bugs were in her unit she started to cry. She had trouble seeing and didn't have anyone looking out for her. She couldn't prepare the unit at all. I told her we would take good care of her, and we did. We prepped the unit for her, performed the treatment and followed up to make sure they were gone for good. Her praise still rings in my ears and I make sure all of my employees seek to earn that level of satisfaction from all of their customers.
What is the guiding principal behind your success with Premier Pest Control?
We believe the hallmark of a true professional is courtesy. Our technicians always go the extra mile with customers. We pride ourselves in customer service.
Why did your company choose to earn the QualityPro certification?
It is important especially in this industry to have high standards. You hear the stories and read the articles about people & companies that don't practice those and they give everyone in the industry a bad name. I agree with the Quality Pro standards, they're something I've always been practicing. The QualityPro designation is finally a concrete stamp that shows off the promise of professionalism.
Overall, what do you think the most valuable aspect of QualityPro is to your company?
Having good hearted, knowledgeable technicians that truly believe in helping people and solving pest problems is integral to our reputation. Having Quality Pro has helped us find quality employees and train our existing employees.
-Guy George
Owner/President, Premier Pest Control, Inc.