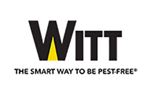 Witt Pest Management
Witt Pest Management has been QualityPro Certified since 2004.
How did you get started in the pest management industry?
I was involved since an early age, looking up to my dad as a kid.
As I grew older, I'd work in the warehouse, office and even as a technician in the summers. I officially joined the business in 2004 after law school. 
Tell us your most memorable moment so far in your career in the pest management industry.
There are so many. Being elected to the Board of Directors of the NPMA last year was a proud moment for me. The most memorable would have to be giving 20 year appreciation awards to 2 of our team members with my father and my grandfather when he was still alive. This was 10 years ago and those same 2 team members just celebrated their 30th year with us.
What is the guiding principal behind your success with Witt Pest Management?
Our 3 guiding company principles are Innovation, Passion and Thoughtfulness. Innovation really drives me. In anything I do or observe, I'm always thinking about how to improve, and I try to instill that mindset to our staff.
Why did your company choose to earn the QualityPro certification?
Our company has always strived to raise the bar in our industry, in our culture, and in the services we provide, upholding the highest standards of professionalism and environmental responsibility. When QualityPro was introduced, we felt this credential perfectly aligned with us.
Overall, what do you think the most valuable aspect of QualityPro is to your company?
Quality Pro certified companies are about excellence, professionalism, integrity and of course Quality in everything that they do, from hiring practices to service methods.
-Adam Witt
Vice President, Witt Pest Management