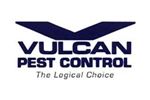 Vulcan Pest Control
Vulcan Pest Control has been QualityPro Certified since 2015.
How did you get started in the pest management industry?
My father has been a certified operator since before I was born. One of my first
memories is him teaching me about the anatomy of a roach as a child. His
passion for the industry is ultimately what brought me in.
What is the guiding principal behind your success with Vulcan Pest Control?
We always put the customer first. We realize that if we don't do the job correctly, that someone else will. We understand that it takes months to find a customer, and seconds to lose one and we pride ourselves in our customer service.

Why did your company choose to earn the QualityPro certification?
Vulcan prides itself in doing the job right, every time. We understand that QualityPro is the highest mark of excellence in the industry, and it is an honor to be a part of it.

Overall, what do you think the most valuable aspect of QualityPro is to your company?
Being able to stay abreast of the latest technology for dealing with pests, and thus being able to provide the best service to our customers.
-Kevin Flynn
Vice President, Vulcan Pest Control