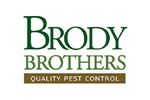 Brody Brothers Pest Control
Brody Brothers Pest Control has been QualityPro Accredited since 2013.
How did you get started in the pest management industry?
I'm a second-generation pest control owner/operator. I started out working at age 14 in the family business in the summers and was a full-time employee by the time I turned 16 years old. I always had a longing for having some type of degree in psychiatry, but I found helping customers with bugs and there "problems" very fulfilling. As Brody Brothers grew from family only to having lots of employees, from different walks of life, I really cherish the relationships I have developed with coworkers and customers through the years.  
Tell us your most memorable moment so far in your career in the pest management industry.
There are so many from being a young adult working; from being outside and watching the seasons pass, seeing my customers family's grow up, to looking around at my coworkers and thinking, "Man am I lucky, to be working with some of the greatest people in the world!"
What is the guiding principal behind your success with Brody Brothers Pest Control?
Every company professes integrity, quality, customer service and value, but how many really do it! The value of a painting over a picture is the investment of the artists mind. I think our success comes from that! Brody Brothers is not just a company, but a great group of people/family, who come together to accomplish something greater then themselves. Our customers really appreciate when they call, they get to talk to "real people." When our technicians go out to service our customers, their goal is to build long term relationships with our customers. It's truly the backbone of our company!   
Why did your company choose to earn the QualityPro accreditation?
Brody Brothers first slogan in 1984 was Child and pet safety was our main concern. We have always followed a scientific/common sense approach to pest control. When QualityPro came out, we felt it was a perfect match for Brody Brothers! I think QualityPro is doing a great job of building the industry to the standards our customers expect.

Overall, what do you think the most valuable aspect of QualityPro is to your company?
The relationships fostered with NPMA through the use and value of QualityPro and other QualtiyPro accredited companies.
-Levi Brody
President, Brody Brothers Pest Control