Interstate Pest Management
Interstate Pest Management has been QualityPro accredited since 2008!
How did you get started in the pest management industry?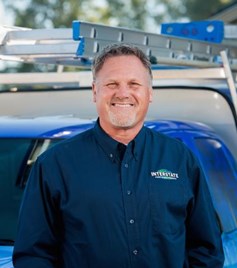 I got my start in the pest management industry at an early age. My parents operated the company out of our home. My dad moved to the Longview/Kelso area in 1967 with only $1000.00 that he spent the first week after moving from The Dalles, OR. I grew up with our personal phone being the Interstate Pest phone, we only had one car and then the bug truck.  My dad build a small but quality company, and I'm proud to say that we still have many of the customers from when he started in 1967. (More history here)
Tell us your most memorable moment so far in your career in the pest management industry. 
I think it was when we had the ability to send out employees and not my partner or myself.  It is very hard to keep the same level of service and ownership. That is still an everyday goal that we are striving for.
What is the guiding principal behind your success with Interstate Pest Management?
We are a faith-based company, we feel that every interaction whatever it might be must be a Win-Win.  We never want to be shy about what we have done and I never want to feel that I would ever need to avoid anyone in the grocery store or any place in public.
Why did your company choose to earn the QualityPro accreditation? 
We feel the the NPMA is the leader in our industry and the Quality Pro program is an excellent program for our industry as well as its clients.
Overall, what do you think the most valuable aspect of QualityPro is to your company? 
I think the most valuable aspect is that QualityPro is like the rising tide in our industry, it forces the entire industry to be better. If a company does not want to raise their standards to match it, they will be naturally eliminated.