A-Action Pest Control
A-Action Pest Control, Inc. has been QualityPro Certified since 2011.
How did you get started in the pest management industry?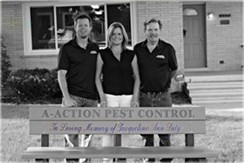 A-Action Pest Control, Inc. was founded in 1988 by my father, Douglas M. Duty. We have been protecting the health and property of our customers ever since. Now, in our second generation of ownership, we continue to provide our customers with the incomparable service they deserve.
Tell us your most memorable moment so far in your career in the pest management industry. 
I received a call from a frantic woman whose husband decided to remove a hornet nest from a tree using "Easy-Off Oven Cleaner."  After climbing the ladder and getting high up into the tree, the ladder fell and the hornets started to swarm the husband. The woman was calling around to obtain different pricing quotes from local professionals – all while her husband was still up in the tree, getting swarmed by hornets!!  I told her to put on a heavy coat with a hood and at least pick up the ladder so her husband could get down safely.
What is the guiding principal behind your success with A-Action Pest Control? 
The guiding principles behind the success of A-Action Pest Control, Inc. are our core values and our team members.  Our core values include Trust, Integrity and Relationships. Our A-Action team members strive to uphold these core values in every interaction with our customers. Our technicians take ownership in their residential accounts, and become more like friends and family,
Why did your company choose to earn the QualityPro certification?
We chose to become QualityPro certified to be part of an elite group of pest control professionals that uphold a high standard.  As the 'seal of approval', Quality Pro certification ensures our customers A-Action Pest Control will go that extra mile for them and the well-being of their home and family.  
Overall, what do you think the most valuable aspect of QualityPro is to your company? 
QualityPro has been valuable to our company as a high standard. It is an additional level of protection for potential customers, knowing we are abiding by the best business and technical practices in our industry.
-Cheri & Adam Ring
Owners, A-Action Pest Control, Inc.