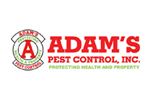 Adam's Pest Control, Inc.
Adam's Pest Control, Inc. has been QualityPro Certified since 2005.
How did you get started in the pest management industry?
My dad co-founded Adam's in 1971 and I joined him after his partner passed away in 1995.
Tell us your most memorable moment so far in your career in the pest management industry.
Being recognized as a PCT Crown Leadership Award Winner, an honor bestowed to my dad 10 years earlier and so many other veterans of the industry I look up to.
What is the guiding principal behind your success with Adam's Pest Control?
Treating our employees like family and training them to deliver the best service in our markets.
Why did your company choose to earn the QualityPro certification?
We recognized the need for a higher standard out there and are supportive of anything that raises the bar closer to our company standards, as that minimizes the risk of someone or some company damaging the reputation of our industry. 
Overall, what do you think the most valuable aspect of QualityPro is to your company?
The process to get certified originally and then the training and additional certifications we have achieved have been valuable to us as a company and those individuals who have worked towards QualityPro Schools, GreenPro, etc.

-Todd Leyse
President, Adam's Pest Control, Inc.