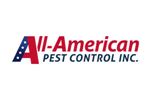 All-American Pest Control, Inc
All-American Pest Control, Inc. has been QualityPro Certified since 2015.
How did you get started in the pest management industry?
I often say, "Never say never," because I never thought I would be working in the pest control industry. My grandfather started All-American Pest Control in November of 1961 when my father, Al, Jr., was 11 years old. So, from an early age, my dad saw the value of a locally owned, small business and earned a college degree that trained him to work with my grandfather and, ultimately, take over ownership of All-American in 1985.
I, on the other hand, pursued different interests in college and beyond. In 2003, I began helping my father with logistics for All-American in the afternoons while attempting to grow my own business in another industry at the same time. It wasn't until then that I realized that we worked in a great industry with great team members and great customers. That's when I caught the pest control "bug." I then set out to learn all that I could about our customers, our team, and the business. In 2012, I purchased the business from my father and we officially transitioned to third-generation ownership.

Tell us your most memorable moment so far in your career in the pest management industry. 
One afternoon in 2003, my grandfather casually strolled in with a huge 16X20 portrait. He nonchalantly said, "Look what I found in the attic." It was a giant photograph of our business team members from 1962 - our second year in business. It was a treasure that we didn't even know existed. You can watch a video about that photograph here: https://www.youtube.com/watch?v=1XeXlQcLhNE
What is the guiding principal behind your success with All-American Pest Control?
We are successful because of our people. My greatest responsibility is to hire incredible employees who love serving others and always do what they say they'll do. If we hire amazing people with servants' hearts and provide them with the tools, equipment, and training they need, everybody wins! Our team wins, our customers win, and our company wins.
Why did your company choose to earn the QualityPro certification?
We believe in our industry! And we share the same values that Quality Pro promotes.
Overall, what do you think the most valuable aspect of QualityPro is to your company? 
QualityPro is a symbol that constantly reminds our team that we are among the best of the best. Not just in middle Tennessee, but as a leader in the pest control industry worldwide.
-Erin Richardson
Owner/President, All-American Pest Control, Inc.