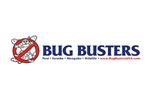 Bug Busters USA
Bug Busters USA has been QualityPro Certified since 2017.
How did you get started in the pest management industry?
Neil Parker started the company in 1984, following a brief time in a management position with Orkin. I am now the second-generation owner of the company with my sister Daphne Bertholf.
Tell us your most memorable moment so far in your career in the pest management industry.
When I first started in the business I was working in our Chattanooga, TN branch as a route PMP. One morning I got a call from the branch manager who I reported to saying, "Court I need you at the office ASAP, not as a route PMP but with your owner hat on."  Our office that morning had five feet of water inside it due to the city flooding.  It was an unbelievable scene, seeing everything we had worked for in the branch floating around.  Nonetheless, we did not miss a service that day and we were up and running in a temporary location the next day.  The biggest positive from that moment was how well the whole company worked together to support each other.  And then we went digital on everything so Mother Nature could not hinder our services again.
What is the guiding principal behind your success with Bug Busters, Inc.?
We are a Team built on a strong foundation of hard work and commitment to our customers, environment, and each other.
Why did your company choose to earn the QualityPro certification?
We have always been a quality company and have complied with all the requirements of QualityPro; however, we finally decided to submit for approval once we noticed potential customers were asking about QualityPro.
Overall, what do you think the most valuable aspect of QualityPro is to your company?
The value is two fold, one shows from an audit point that we believe in providing our customers with the best professional service available and two, it will help distinguish us verse our competition for new business.
 -Court Parker
COO, Bug Busters USA