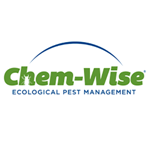 Chem-Wise Ecological Pest Management
QualityPro Accredited since 2015
How did you get started in the pest management industry?
I graduated with a degree in Biology from Valparaiso University and started as a pest control service technician for a Chicago area pest control company.
Tell us your most memorable moment so far in your career in the pest management industry. 
In 1998, as a young and struggling company, I sold a group of 9 large hotels.  Somehow, I managed to successfully provide their service.  After 22 years, Chem-Wise is still providing these hotels with quality service.
What is the guiding principle behind your success with Chem-Wise? 
When the company began, the marketing principle was 'environmentally friendly' in that our goal was to minimize the use of pesticides inside the living areas of a home. By incorporating Integrated Pest Management techniques and using the safest materials, we have been able to continue to successfully provide service to our growing customer base.
Why did your company choose to earn the QualityPro accreditation?
Prior to our accreditation, Chem-Wise was already meeting all of the criteria.  QualityPro is a way that we can proudly display our organization and separate us from the competition.
Overall, what do you think the most valuable aspect of QualityPro is to your company? 
There are several, but the most valuable aspect is to have the confidence that we are a part of the top 3% of all of the pest control companies in the U.S.  Our technicians also appreciate the additional training opportunities.
--David Oeters
President