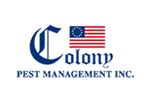 Colony Pest Management, Inc.
Colony Pest Management, Inc. has been QualityPro Certified since 2014.
How did you get started in the pest management industry?
My father, Edward J. Sheehan, owned Checkmate Exterminators from 1971 until he sold the business to Terminix in 1998. I operated my first B&G when I was 5 years old, worked nights and weekends for him until I graduated High School and then worked full time. I did not like working for my Father so I decided to go to college.  He sold his business during my senior year in college and I couldn't have been happier for him. After college I had a "regular" job and was approached by my father's friend to work a couple of nights per week in pest control. Pest Control was natural for me. He eventually offered me a job I could not refuse. Long story short, we parted ways and in 2003 I bought a small company (less that 20k annual sales) called Colony Pest Control. I changed the name, added a logo and have been growing the business ever since.
Tell us your most memorable moment so far in your career in the pest management industry.
There are so many, but he most memorable moment in regards to business is when I made the decision to start a K9 Division. My father was against this decision, he told me he had seen it in the past with termite dogs and it was not a successful venture. He advised me not to do it. Against his advice, I did it and the K9 division has been extremely successful. This was like a true passing of the torch. It was this decision that separated our relationship as father and son and made us equals in business. To this day he is still my most trusted advisor, but more often now he defers to me on all things related to Pest Management.
What is the guiding principal behind your success with Colony Pest Management, Inc.?
Quality at all levels. Customer satisfaction is our core principal at all levels. If our Customer is not happy neither are we.
Why did your company choose to earn the QualityPro certification?
QualityPro made sense to us. It also helped us tighten up some of our policies and procedures. The HR aspect as well as the training offered.
Overall, what do you think the most valuable aspect of QualityPro is to your company?
The distinction it represents, separating us form the majority.
 -Joseph Sheehan
President/Owner, Colony Pest Management, Inc.