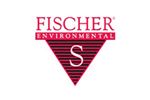 Fischer Environmental Services
Fischer Environmental Services has been QualityPro Certified since 2004.
How did you get started in the pest management industry?
I was looking to find a career that would allow me job satisfaction and a chance to support my family. I started in 1974 with Rollins/Orkin and opened my own business in 1987.
When did your company become QualityPro Certified?  
March 8, 2004. We were certified on the first day that QualityPro started.
Why did your company choose to earn the QualityPro certification?
I believe that it symbolizes true professionalism
Overall, what do you think the most valuable aspect of QualityPro is to your company?
The peace of mind it can give the customer in knowing the type of company and personnel that they will be dealing with.
Tell us your most memorable moment so far in your career in the pest management industry.
The ability to look back 41 years at the many customers we now have and all the employees who depend on us for their living and know we have made a positive difference for many people.
-Robert L. Kunst
President, Fischer Environmental Services