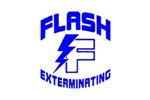 Flash Exterminating
Flash Exterminating has been QualityPro Certified since 2014.
Tell us your most memorable moment so far in your career in the pest management industry.
My most memorable moment in the pest management industry takes me back to when I first discovered a help wanted ad, sitting at the table in my grandmas kitchen reading my grandfathers newspaper when I was 9 years old.

What is the guiding principal behind your success with Flash Exterminating?
The guiding principal in my success with Flash Exterminating is the fact that I am doing what I enjoy to do. I believe if you have a belief in and a love for what you are doing you will be successful.
Why did your company choose to earn the QualityPro certification?
We chose to earn the QualityPro designation because it fit the bill in showing us structure. We think we know but now there is a governing body who studies the industry just as hard as we do and they can act as a blueprint to what the successful, companies are doing in our industry to stay alive and prosper.
Overall, what do you think the most valuable aspect of QualityPro is to your company?
The most valuable aspect to-date of my designation as a QualityPro company has been the referral from the QualityPro board as my company being a certified QualityPro company. The fact that I have this group vouch for me is plenty.
-James Swint
Account Manager, Flash Exterminating