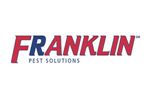 Franklin Pest Solutions
Franklin Pest Solutions has been QualityPro Certified since 2005.
How did you get started in the pest management industry?
Franklin Pest Solutions has been serving Northwest Indiana for residential and commercial pest needs since 1929. I started my career in the pest control industry as a "Scheduler" for one of our branch locations in 2005.
Tell us your most memorable moment so far in your career in the pest management industry.
Walking into a home on a service call that was LITERALLY raining cockroaches from the ceiling stands out as my most memorable moment in the pest control industry. Seeing that for the first time in real life (and not on TV) blew my mind.
Did you ever think you'd have a career talking about bugs every day?
It honestly makes sense. I've loved science, bugs, animals, creatures of all kinds my whole life. I even had a tarantula in my locker in High School because my ma wouldn't let me keep it in the house.
What is the guiding principal behind your success with Franklin Pest Solutions?
We genuinely care.We're here to listen and help humanize pest problems. You can't be ashamed or stressed about stuff like this. I've been there. It's part of life. Life happens. So do bugs. Now let's solve it together!
Why did your company choose to earn the QualityPro certification?
Franklin Pest Solutions prides itself on superior quality service. Certifying each one of our staff members ensures that we maintain a team of individuals that have the best interest of our customer in mind, always. It gives our customers added Peace of Mind while maintaining best practices.
Overall, what do you think the most valuable aspect of QualityPro is to your company?
It's like an extra layer of security for our customers. It's stressful enough to have a pest issue. This certification eliminates that extra pressure of wondering how credible our employees are when customers hire us to come into their home or business and help solve their pest problem.
-Janelle Iaccino
Marketing Director, Franklin Pest Solutions