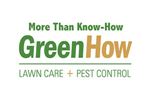 GreenHow, Inc.
GreenHow, Inc. has been QualityPro Certified since 2009.
How did you get started in the pest management industry?
Just out of college over 23 years ago, I started in the management training program of a large national company.  Fast forward a few years and I decided to go out and start my own business with the goal to be a great place to work, to be a leader in pest control and lawn care by using the most advanced materials and equipment.
Tell us your most memorable moment so far in your career in the pest management industry.
I have met a lot of great people, customers and team members in this business.  One technician I hired and trained several years later told me that he came to the industry not knowing what to expect, nervous about be able to do well in a new field, and ended up finding a career doing something he loved and helping people at the same time.  He earns more than he thought and has a better quality of life and he was thankful to me.  I remember being both embarrassed and proud to tell him that he contributes more to me and our customers and we should be the ones thanking him.
What is the guiding principal behind your success with Greenhow?
Customer satisfaction is the only thing that matters.
Why did your company choose to earn the QualityPro accreditation?
To illustrate our commitment to a high standard to our customers.  QualityPro standards align with our business standards very well.  It is great for the consumer to have option of companies that have already met the standards they want when having service professionals out to their homes.
Overall, what do you think the most valuable aspect of QualityPro is to your company?
The recruiting and hiring component.  Human resources can be complex.  We want to recruit, hire, train and retain the best service people in the markets we serve.  We use the resources of QualityPro to help us ask the right questions, make sure the pre hire screening is appropriate and end up with a effective recruiting program that is compliant with current regulations.
Explain the use of Greenhow as the business name, it is your last name and the way you do business?
When thinking of a name for my business I was describing to a friend the type of integrated pest management service combined with EPA reduced risk products to minimize impacts on non targets and my friend pointed out to me to use my last name as the business name – Greenhow, with the green signifying the low impact pesticide selection.  Greenhow, more than know how, is now our logo over a dozen years later.
-Sean Greenhow
President, GreenHow, Inc.