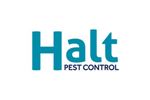 Halt Pest Control
Halt Pest Control has been QualityPro Certified since 2006.
How did you get started in the pest management industry?
I started working in the pest management industry about 40 years ago in California. At the time, I was looking for a job that was near my home. I came across a pest control company down the street from where I lived and they ended up hiring me. It turned out to be a great career fit for me, as I got to solve problems, be on my feet, and meet new people all the time. I spent several years working at that company, during which time I found that I really enjoyed what I was doing, and I was good at it. My wife and I wanted to move to Oregon to raise our family, and I opened Halt Pest Control when we moved nearly 30 years ago.
Tell us your most memorable moment so far in your career in the pest management industry.
Over the past 28 years there have been so many amazing clients with some difficult and unique pest issues. It's difficult to pick out one moment that is the most memorable from the field, but I'd say the most memorable moment so far was starting Halt Pest Control. Starting my own company was exciting and rewarding in so many ways. Beginning this company was an incredible experience because I had the opportunity to help my community by both hiring employees and by providing quality pest management.  If I had to pick a specific most memorable moment, it would probably be signing up my first commercial account – an account Halt Pest Control still services today.
What is the guiding principal behind your success with Halt Pest Control?
We've always believed in finding a solution to the problem, not just a temporary fix. With Halt Pest Control, we do this by educating our clients, using thorough inspections, integrated pest management, and monitoring accounts over time. These things really set us apart from other pest control companies because we take the extra time to figure out why problems are happening and evaluate solutions with our clients to determine what solution works best for their needs.
Why did your company choose to earn the QualityPro accreditation?
When the National Pest Management Association announced the QualityPro accreditation it immediately caught my attention. One of the biggest challenges I've faced operating a pest management company is effectively communicating the integrity of my business. There are a lot of really great pest management companies, but there are also a lot of companies that don't hold themselves to the same level of quality that I do. When I found out about the QualityPro accreditation it was an easy decision to become accredited.
Overall, what do you think the most valuable aspect of QualityPro is to your company?
As a company we've always held ourselves to the highest standards in terms of customer service and ability to solve pest problems. Being a QualityPro certified company is a very effective way for us to communicate our standards to clients.
-Robert McMaster
President, Halt Pest Control