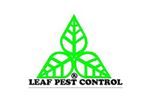 Leaf Pest Control
Leaf Pest Control has been QualityPro Certified since 2009.
What is the guiding principal behind your success with Leaf Pest Control?
Professionalism, Safety, Quality, and Value... This is what Leaf Pest Control is about.
Why did your company choose to earn the QualityPro certification? 
QualityPro certification means that Leaf is a company that you can trust to take care of you family and home.
Overall, what do you think the most valuable aspect of QualityPro is to your company
Nationally recognized standard of high quality.
-Dennis Link
Manager, Leaf Pest Control