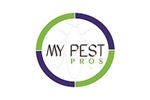 My Pest Pros
My Pest Pros has been QualityPro Certified since 2015.
How did you get started in the pest management industry?
We like to solve problems and help people. Pest control provides a nice balance while also contributing to public health in our community. We started providing mosquito and tick treatments because of concerns about West Nile Virus, Lymes disease and the inability of families to safely enjoy their backyards. We expanded into general pest control at the request of clients who had issues with mice, ants, termites and other pests, and they wanted a pest control company that could handle all their issues.
What is the guiding principal behind your success with My Pest Pros?
Our goal is to provide the best customer experience for our clients. We aim to offer honest recommendations and quality service to solve our clients' problems and protect their families, homes and businesses.
Why did your company choose to earn the QualityPro certification?
We already went above and beyond what many companies do by performing background checks and drug tests, but we wanted to go further and demonstrate this commitment. QualityPro offered us additional resources to improve our own already high standards and help us demonstrate our commitment to professionalism.
Overall, what do you think the most valuable aspect of QualityPro is to your company?
QualityPro is both a resource for us internally as well as a badge to demonstrate our focus on professionalism.
-Brett Lieberman
Principal, My Pest Pros