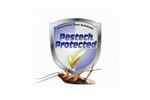 Pestech Pest Solutions
Pestech Pest Solutions has been QualityPro Certified since 2009.
How did you get started in the pest management industry?
I have always been fascinated by bugs, intrigued by business and had a desire to help people. I was able to combine my three passions when I started Pestech.
Tell us your most memorable moment so far in your career in the pest management industry.
One of the most memorable moments was many years ago when we received a call from a customer stating that there was a deer in their basement. I went with one of my technicians, and sure enough, a fawn accidentally walked through the bilco doors and down the stairs and was running around scared in the basement. Imagine two guys running around a basement trying to safely chase a deer out.  This was way before YouTube or the video would have gone viral!
What is the guiding principal behind your success with Pestech?
Our mission statement sums up our principals, "To preserve healthy living and improve human life."  When we first begin our inspection, people know that we care about them, their businesses, families, and homes.
Why did your company choose to earn the QualityPro certification?
QualityPro was a natural progression for us, since we had already began many of the aspects of QualityPro such as DMV and criminal background checks for employees, exceeding state minimums and striving towards making Pestech the best we can be.
Overall, what do you think the most valuable aspect of QualityPro is to your company?
Letting the public know that we are one of the few QualityPro Pest control companies, especially in our service areas, is probably the most valuable aspect.  It signifies that we are proud of our accomplishments, training and achievements.
-Bruce Davidson
CEO, Pestech Pest Solutions