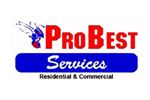 ProBest Pest Management
ProBest Pest Management has been QualityPro accredited since 2005.
How did you get started in the pest management industry?
I was a late bloomer - not starting until 1992 in Longwood, FL. I started as a salesman in Florida - a place ripe with bugs and plenty of opportunities to help people solve their problems. I was then promoted to Service Manager, a position I really enjoy - I'm a service technology kind of guy.
In your opinion, what makes the pest management industry different from other industries?
I see us as public health professionals, not just as bug guys. I don't see the bugs going away so from that aspect we are essential to family life.
Why did your company choose to earn the QualityPro certification?
I worked for FMC and saw this organization as a way to increase professionalism, so as soon as I purchased ProBest Pest Management in 2005 I worked towards certification. I continue to see the benefits in striving toward Quality standards.
Overall, what do you think the most valuable aspect of QualityPro is to your company?
Every industry has those that are looked at as lacking ethics; I see QualityPro as well as the A.C.E. program by Entomological Society of America (ESA) as a guiding light for all of us to aim towards.
What's your forecast for the industry in the next 5 years?
Hopefully the economy will continue to change for the better, so I'm hoping that this will help us focus on getting back to some semblance of order. But all in all I see great things coming!
Tell us your most memorable moment so far in your career in the pest management industry.
I love attending PestWorld events, I get a chance to see many friends and catch up on their lives and careers. A wealth of information is available and you can always count on their help if you need it.
-Keith V. Birkemeyer, ACE
ProBest Pest Management
keith@callprobest.com
www.callprobest.com
http://callprobest.com/blog/