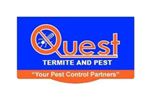 Quest Termite & Pest
Quest Termite & Pest has been QualityPro Certified since 2004.
How did you get started in the pest management industry?
My career in pest control began with a large box company as a technician.  I quickly rose in rank to be a top Inspector/Pest Management Professional for our region.  I was offered management positions but declined as I prefer to be interactive with the customers.
Tell us your most memorable moment so far in your career in the pest management industry.
My most memorable moment in my career was when Quest Termite & Pest was "born" and I had complete control and responsibility for the products used, services offered, and individuals representing my business.
What is the guiding principal behind your success with Quest Termite & Pest?
We pride ourselves on customer service.  Our goal is to offer a positive customer experience every time.  We believe when the customer is satisfied, the rewards will follow.  In teaming with the PA and National pest management associations, we have the highest quality screened and trained professionals working for us.
Why did your company choose to earn the QualityPro certification?
With these credentials, we are committed to caring about what we do.  As a company, we are concerned about the services we provide.  We offer the highest quality services available in the industry.
Overall, what do you think the most valuable aspect of QualityPro is to your company?
QualityPro is more than just a certification.  There are numerous opportunities to learn, grow, and develop in the industry.  Through training, marketing tools, and the support of our peers, we have an opportunity to deliver a quality service at a fair price with the most educated pest control specialists.
What type of education and experience do you have to support the work you do?
I've been a volunteer fire fighter since 1983 and Fire Chief since 1996.  I have credentials in advanced firefighting, water rescue, HAZMAT training, arson investigating, and emergency management.  In 2000, I trained to be a home inspector but chose to focus on the pest management aspect.  Through all my training and experiences, I've not only learned how to manage a fire scene and the safety of all involved, but I am also mechanically inclined with extensive knowledge in building construction.  This knowledge supports both firefighting as well as determining how termites and insects enter a structure.
As it relates to the pest and termite management industry, I have extensive training as a technician and inspector in various disciplines of pest management to include termite, wood boring beetle, bed bug, carpenter ant, and a wide variety of other insects.  This training began in my career with a big box company where I earned high ranks with the company.  I continue to develop by attending training sessions such as PestWorld and the Eastern Conference offered by the National and Pennsylvania Pest Management Associations, in addition to numerous trainings offered through manufacturers and suppliers.
-Chris Snyder
President, Quest Termite & Pest
questpest@rcn.com