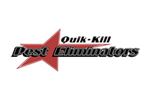 Quik-Kill Pest Eliminators, Inc.
Quik-Kill Pest Eliminators, Inc. has been QualityPro accredited since 2005.
How did you get started in the pest management industry?
I am a second generation Pest Management Professional (PMP). I usually tell the story of my start in the industry of being a young man accompanying my father on an inspection and my father pointing to the crawl space opening and saying - "See that hole boy? Get in there."
What is the guiding principal behind your success with your organization?
My father told me many times growing up that "there is no right way to do the wrong thing." That advice has served me well over the years, both personally and professionally.
In your opinion, what makes the pest management industry different from other industries?
There is no other industry I have been associated with or in where fierce competitors can unite as one voice to reach common goals, speak to industry concerns and do more good for the public at large than the professional pest control industry.
Why did your company choose to earn the QualityPro certification?
There are many reasons, but the level of professionalism that becoming QP approves elevates a company to, in addition to the resources it puts at your fingertips made it a very simple decision.
As an early adopter, we recognized both the value and differentiation that QP brought to our company. As a result, we were one of the first in Illinois to become certified. I strongly urge anyone even remotely interested in the program to spend just a little time and investigate all the benefits and then ask the question of themselves, "why didn't I become certified sooner?"
Overall, what do you think the most valuable aspect of QualityPro is to your company?
I believe that the toolbox that applicants receive is the most exciting item initially. The toolbox includes everything needed to take your company to the next level - many of the items that many small operators simply would not have the time or resources to develop. After that, all the other benefits made QP a "no-brainer" decision for our company.
What's your forecast for the industry in the next 5 years?
This is another example of where quality-minded companies can continue to differentiate their service offerings and provide real value to consumers who purchase our services. QualityPro companies should see significant growth as a result of these differentiations.
-Tim Baietto
President, Quik-Kill Pest Eliminators, Inc.
tbaietto@quikkill.com