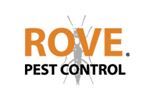 Rove Pest Control
Rove Pest Control has been QualityPro Accredited since 2017.
How did you get started in the pest management industry?
I heard about pest control as a good side job during college, but as I got into the industry, I realized the difference that I could make in people's lives that are struggling with pests. The more I learned, the more interesting the industry became.
Tell us your most memorable moment so far in your career in the pest management industry.
We participated in a bed bug charity event where we helped a family that was plagued beyond what is fathomable for most people to hit a bed bug free status when they were ready to burn their home down. It seemed like a great idea, but to witness the emotional impact it had on the family was something else altogether.
What is the guiding principal behind your success with Rove Pest Control?
Completion is the glue that binds everything together: complete preparedness prior to attacking a situation, complete integration of all tools available to provide the best solution even if that is a route away from our company and its services, complete education for me and the customer, and completing the objective of each job even if that means changing approaches until the correct combination comes together.
Why did your company choose to earn the QualityPro accreditation?
We constantly seek ways to improve. Having a standardized list of items to analyze was a great way to find the small details that can make us better. It also provides a benchmark point that potential customers can use to understand our industry.
Overall, what do you think the most valuable aspect of QualityPro is to your company?
It is a detailed piece that we can use to check various aspects of the business against to ensure we are keeping even the smallest details up to par.
Professional Service
We are pest-control professionals. That means we respect you and your home, but show little respect to pests who trespass onto your property. We apply proven methods and products that rid your home of unwanted intruders such as ants, bed bugs, cockroaches, spiders, wasps, mice, and many more. Whatever the pest, we are the solution!
Don't know the name of the bug or other pest occupying your property? Not to worry. We know them all. We will identify your pests during our free inspection, offer you options, and then recommend the best solution. We offer our service around your schedule and deliver on our promises. We even guarantee it.
The Rove Difference
What do you want from your pest-control company? What kind of pests are you dealing with? What are your questions and concerns?
At Rove, we ask these questions because we believe you deserve pest control that fits you. We listen to you, answer your questions, and provide long-term solutions based on your specific wants and needs. We center our service on you.