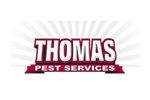 Thomas Pest Services
Thomas Pest Services has been QualityPro Certified since 2012.
How did you get started in the pest management industry?
I grew up in the industry! I am third generation following my grandfather and father's footsteps. My uncle owned a pest management company and my aunt is in the industry, so pest control is in my blood.
Tell us your most memorable moment so far in your career in the pest management industry.
In 2009, I attend Pest World in Las Vegas with my father, Craig and received the Professional Women in Pest Management Award. I look back now, and treasure the memories I shared with my father. I am still honored to have received this award with so many exceptional females in the industry.
What is the guiding principal behind your success with Thomas Pest Services?
Success does not happen overnight nor without hard work. I learned these valuable lessons from my father, Craig. My team works extremely hard and provide great service, just like they would to their Grandma. As a family owned company, supporting our employees in and out of the work environment translates into happy employees, who take care of our customers.
Why did your company choose to earn the QualityPro certification?
We choose to be QualityPro to increase our level of professionalism and make us different than the competition.
Overall, what do you think the most valuable aspect of QualityPro is to your company?
When a customer is deciding to choose a provider for pest management, mentioning the criteria of QualityPro (background checks, drug testing, etc.), it immediately represents the professionalism of your company.
-Sarah Thomas-Clark
Vice President, Thomas Pest Services