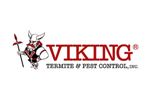 Viking Termite & Pest Control, Inc.
QualityPro accredited since 2006
How did you get started in the pest management industry?
I was born into it. I grew up in the pest control industry. My parents started Viking in 1980 and my brother and I are fortunate to now be part of this great company.
What is the guiding principle behind your organization's success?
Take care of the customer. Give your employees the tools they need to succeed. Be easy to work with and for. Everything else then seems to fall into place.
Why did your company choose to earn the QualityPro certification?
Viking wants to continue to challenge ourselves to be the best we can be and measure ourselves at the highest standards our industry measures. QualityPro has really helped direct the continued professionalism for Viking and the industry as a whole. Background screening, HR directives as a whole and multiple other facets are so important to help provide the right image and simply just help do the right thing for our customers and fellow employees.
Overall, what do you think the most valuable aspect of QualityPro is to your company?
The assistance in promoting professionalism within our organization and to our clients.
Tell us your most memorable moment so far in your career in the pest management industry.
One continuous moment that goes very quickly. A moment that I have seen great personal and professional development for me and our company. My favorite moments are the experiences shared with employees that are bettering their lives in part due to the company and of course helping our customers eliminating their pest problems.