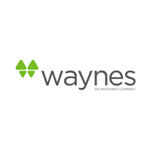 Waynes Pest Control
QualityPro Accredited since 2017
How did you get started in the pest management industry?
My father has worked in the pest industry for many years, so when it was time for me to do my internship for college, I got on with Waynes as the Social Media & Marketing Coordinator intern. Through this internship, I built strong relationships with my coworkers and knew this was the company/industry I wanted to be in after graduation.
Tell us your most memorable moment so far in your career in the pest management industry.
I would say COVID-19 and the impact it had the past year. Our team did a fantastic job with the pandemic and came out on top as a company. We truly have some hard workers with a passion in what they do!
What is the guiding principle behind your organization's success?
Character, integrity, courage, and perseverance. These are the words you will find on our shield. At Waynes, you are taught to carry out the shield every day in everything you do. If you integrate these four words in your life, there is no doubt you will be successful.
Why did your company choose to earn the QualityPro certification?
As a leading pest control provider that prides itself in integrity, courage, perseverance, and character, we wanted to align those with the standards of excellence set forth through QualityPro. Less than 3% of all pest management companies are QualityPro certified, and we wanted to be a part of the accredited few.
Overall, what do you think the most valuable aspect of QualityPro is to your company?
QualityPro is an extra layer of training and education for our team above and beyond our regular new hire training program. It sets the stage for our team to live out our core values through protecting our customers' homes and businesses.
Company Information
Our president is Shawn Hollis. Waynes provides Termite Protection, Pest Prevention, and Lawn Care for over 50,000 customers across Alabama, Mississippi, and Tennessee.
Waynes has been serving customers since 1973. We have grown over the decades through a commitment to providing a world-class experience for our customers. We believe that if our employees are happy and fulfilled, they will go above and beyond in delighting our customers. That is the heart of the Waynes philosophy: Every little thing matters. A lot. The Waynes team is always looking at everything that we do to improve the quality of our team and their quality of life so that we can provide a quality service that sets the standard for not just the pest control industry, but the entire service sector.
In 2019, Waynes partnered with Anticimex, industry-leading experts in pest control and related services. Founded in Sweden in 1934, Anticimex has more than 4,500 employees in 17 countries worldwide. Anticimex is a valued partner enabling Waynes to continue our ongoing effort to provide termite protection, pest prevention, and lawn care with a World-Class customer experience.
Meredith Boyd
Social Media & Marketing Coordinator