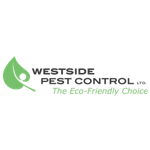 Westside Pest Control Ltd
Westside Pest Control Ltd has been QualityPro Accredited since 2022.
How did you get started in the pest management industry?
Westside Pest Control was founded by Mike Londry in Port Moody in 2009. After 3 years of quickly moving up the ranks in the pest industry, Mike realized that there was an opportunity in the Lower Mainland to provide residents and businesses with better customer service and more sustainable pest management.
Mike's commitment to environmental sustainability, community involvement and good business practice are foundations on which he has built the business to one of the leading providers of pest control management services in Western Canada.

Tell us your most memorable moment so far in your career in the pest management industry. 
Helping Johanna and Henrick Sedin with a squirrel that came down their chimney and wreaked havoc in their entire house like something out of National Lampoons or a Disney film. The day it happened was game 4 of the Stanley Cup Finals with Boston. I missed the game to complete the work as I wanted to do everything I could to alleviate any stress from the Sedin household!
What is the guiding principal behind your success with A-Action Pest Control? 
The priority of exceptional customer service has not wavered over 13 years as the company expanded from a one person owner operator in 2010 to a team of over 25 trained and qualified pest experts. The company's growth has not affected the personal touch and high level of care that is delivered to its clients service after service.
Why did your company choose to earn the QualityPro certification?
Ongoing training and education have always been a priority for us. Having the latest innovations and the most up-to-date training standards, enables us to deliver an exceptional level of care to our customers. Even after 13 years of business, we're continually adapting and innovating so we can deliver such a high level of care.
Overall, what do you think the most valuable aspect of QualityPro is to your company? 
As a company we take genuine pride in providing effective long term solutions to pest problems. We strive to put our client's mind at ease as quickly as possible, and we believe the QualityPro accreditation helps us to achieve this.
-Mike Londry
President, Westside Pest Control Ltd.